As part of the initiatives of the UP College of Music (UP CMu) to increase productivity in both creative work and research, an activity was organized featuring the Filipino Society of Composers, Authors, and Publishers (FILSCAP), the collective management organization for music creators and copyright owners in the Philippines. The lecture-orientation was given by FILSCAP's general manager Atty. Mark Thursday Alciso. He obtained his undergraduate degree in Economics from De La Salle University (DLSU) in 1996 and his law degree from UP in 2000. An industry recognized music copyright expert, Atty. Alciso is a trailblazer in digital music licensing in the Philippines having helped paved the way for digital platform powerhouses like YouTube and Spotify to legally operate in the country. Atty. Alciso is also an accredited IP arbitrator of the Philippine Dispute Resolution Center Inc. (PDRCI) and a member of the board of the Licensing Executives Society Philippines (LESP).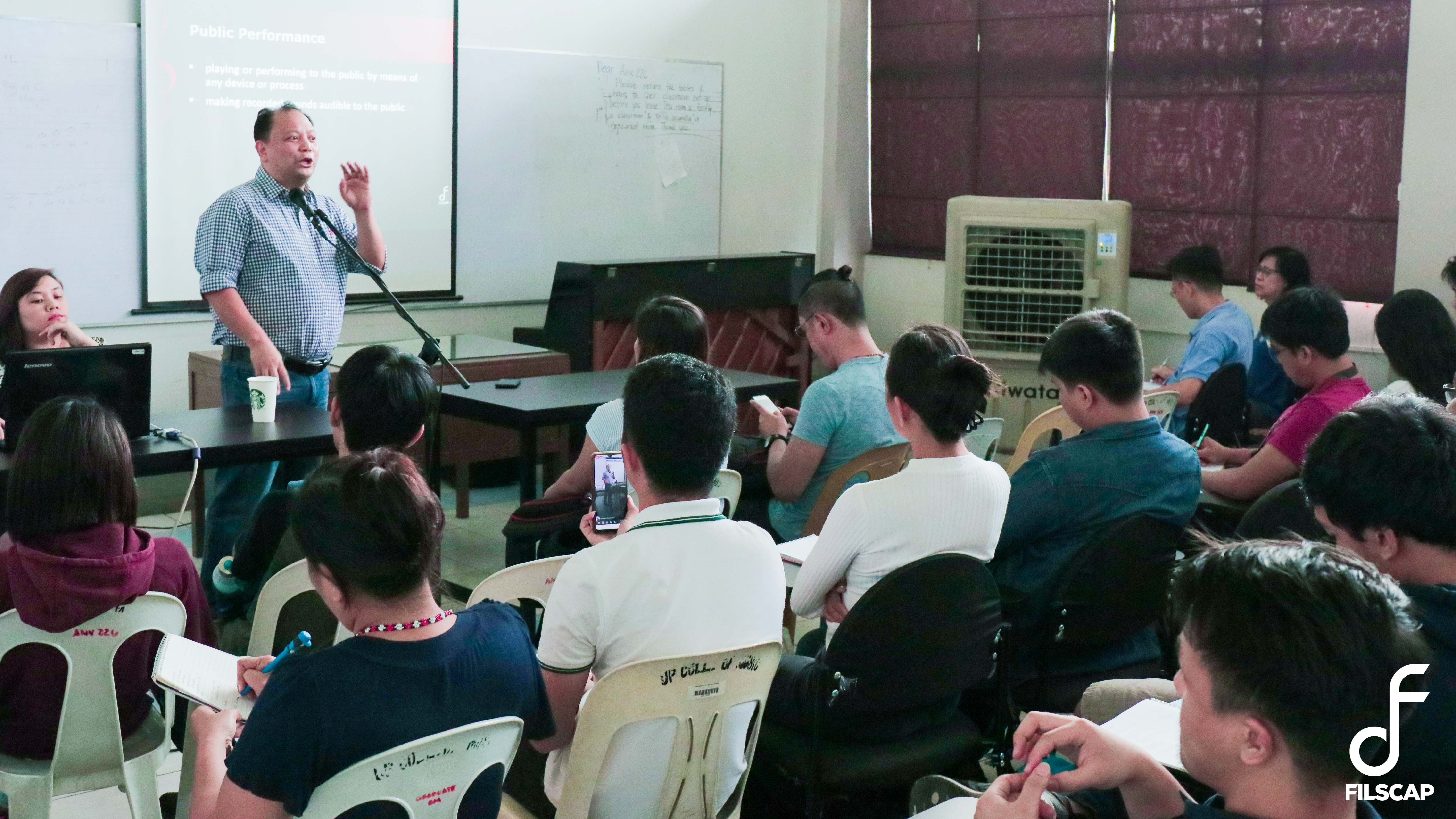 Photo shows guest speaker Atty. Mark Thursday Alciso and attendees
During his lecture, Atty. Alciso exhibited his legal expertise albeit displaying more "commercial/economics" sense in what one can get out from the creation of a music product such as royalty and other types of rights and shares.
The audience comprising of faculty, staff, and students enthusiastically welcomed the activity, seeing this as an opportunity to bridge the academic with the realistic world of the music industry. UP Center of Ethnomusicology's Technical Assistant Sol Trinidad-Zaldua shared her insight about the talk, "I was very glad that I stayed as long as I could. The speaker, a practicing lawyer, gave updates on new laws that rendered previous laws void. From this part of the talk, the conflicts that arise in law between creators and lawmakers came to the forefront. Though I have heard numerous times that copyright exists from creation, it still is more empowering to hear it said by an authority of the law. Emphasis was placed on needing to have concrete evidence on proving who was the first to create a work in case litigation arises. However, it isn't necessary anymore to send a copy of the work to the National Library."
Students find the lecture useful in their preparation for musical careers. Former Student Council chairman Sean "Sage" Ilagan observed that the talk was helpful for him as a musician who wanted to make writing music as a profession. He hoped that there would be other workshops like this, or maybe even an integration of copyright and music business in the programs offered in the UP CMu. As finalist of last year's Banawe International Music Composition Competition, student composer Joshua Ansale posited that the concept of intellectual property is something that all composers must wrap their heads around in. On the other hand, he saw that FILSCAP's talk on the enforcement of copyright law in the Philippines provided the composer with the basic gist of protecting one's intellectual properties.
After explaining about the nature of copyright and the rights of composers on their works, Atty. Alciso showcased the activities that FILSCAP has been sponsoring to promote the works of composers. However, in the course of this discussion, some gaps were felt by the audience. As chairman of the Composition and Theory Department, Prof. Josefino Toledo raised the organization's lack in terms of giving space to serious music composers. Similarly, Ilagan sees FILSCAP as an organization that is focused more on songwriters than composers who specialize in writing contemporary concert music. Alciso responded by inviting all concerned artists to propose activities that can provide the filler to this gap.
On the other hand, former chairperson of the Composers of New Music (CONEMUS) Jose Buencamino opined, "I feel that the talk would be much more relevant however if it were oriented less towards the standard singer-songwriter, and more towards the performers and composers of the nature that our college espouses." He justified though why FILSCAP is inclined to focus more on certain types of clientele, "In any case, I do acknowledge that the singer-songwriter profile is much more common and profitable to their institution, so I understand why they may have paid special attention to that context."
Research Coordinator Prof. Maria Christine Muyco with the assistance of Ms. Josephine Baradas teamed-up to organize the FILSCAP lecture, particularly in response to some of the faculty's query regarding copyright and permission ethics. Guitar lecturer Lester Demetillo, for instance, was interested in finding out ways to use music that is considered not yet open to the public domain. This and other issues were clarified. As a whole, the lecture has shed light not only for the faculty but as well as to students on the tangible return of their creative efforts.
Trinidad-Zaldua raised her concern on audience building in saying that, "…more listeners could have attended if the promotion was disseminated to wider platforms." She added, "Topics like this should be part of our regular classes. Faculty should have a working knowledge of laws that directly affect creatives and researchers such as ourselves and disseminate these while encouraging students to also do their own research."
Given the aforementioned reactions from the audience, learning activities such as this is further encouraged. Appreciation is given to Dean LaVerne de la Pena who motivates the UP CMu faculty, staff, and students to accomplish more creative outputs.