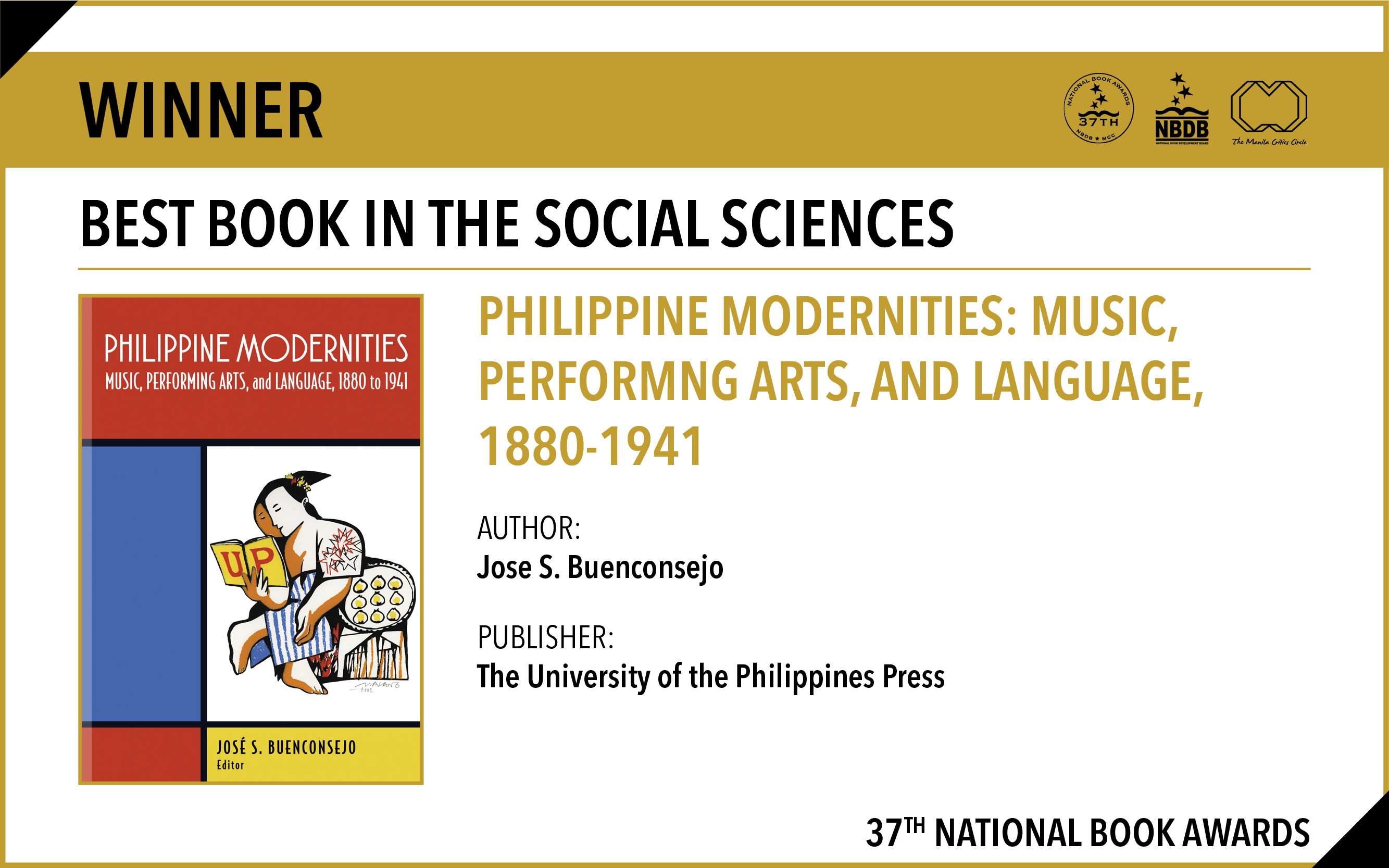 Publisher: UP Press
Publication Date: 2017
ISBN/ISSN: 978-971-542-849-1 (Softbound)
978-971-542-857-6 (Hardbound)

Philippine Modernities: Music, Performing Arts, and Language, 1880-1941, edited by Dr. Jose Buenconsejo of the UP College of Music, won the Elfren S. Cruz Prize for Best Book in the Social Sciences. The award was given by the National Book Development Board and the Manila Critics Circle and was conferred in the 37th National Book Awards ceremony on November 24, 2018 at the Auditorium of the National Museum of Fine Arts, Rizal Park, Manila.

The book delves on a particular cultural history of modernity in the Philippines. It contains essays by Dr. Buenconsejo titled Print Music Commodification and the Costumbrismo of Diego C Perez's Recuerdos de Filipinas y Sus Cantares (1886) as well as by faculty members of the College of Music such as Capitalism and Mode of Production in the Printing of the First Tagalog Music Theory Book by Asst. Prof. Arwin Tan; On the Estella-Santiago Dispute: Sublation and Crisis in Intellectual Property Rights in 1930s Philippines by Prof. Jonas Baes; Musika sa Publikong Paaralan sa Filipinas: Pagbuo ng Kamalayang Amerikanisado, 1901-1935 by Prof. Raul Casantusan Navarro; The UP Conservatory/College of Music: Nesting Ideologies of Nationalism, Identity, and Excellence in the Musical Arts by Prof. Emeritus Ramon P. Santos; Clipping Together Steps and Dancing Them Out: With Francisca Reyes Aquino and After by Prof. Emeritus Basilio Esteban S. Villaruz; and Writing 'Filipino': The Critical Pen on Music in Manila's Newspapers, 1860-1940 by Asst. Prof. Ma. Patricia Brillantes-Silvestre.

The book also features essays by the recent National Artist in Literature, Resil Mojares, titled Music, Politics, and the Buenaventuras; Pity, Recognition and the Risks of Literature in Balagtas by Vicente Rafael; and E. San Juan Jr.'s Charting the Emergence of the National-Popular Imagination in the Philippines (1896-1940), among others.

In his review of the book in The Journal of History (2018 volume) of the Philippine National Historical Society, UP Faculty Regent and highly respected Philippine Studies Scholar, Dr. Ramon Guillermo describes the essays as "of a very high standard in scholarship." The book is available at the UP Press Bookstore.