"Yaon ang aking bayan, na sagana sa yaman…at ang kulang na lamang yaong kasarinlan!"
- "Ang Aking Bayan", Nicanor Abelardo (1893-1934)
These were the last lines of the final song during Ripieno Ensemble PH's concert, entitled "Kundiman" held on June 24, 2018, 17:00 at the Hong Kong Festival Hall, Hong Kong Festival Orchestra School of Music (33 Marble Road, North Point). A spoken word poetry performance which alternated the songs was performed by two collaborating artists from Alab at Sinag Artist Collective. The concert was one of the commissioned projects of the Modern Academy Creative Projects (MACP). The Modern Academy is an international program that trains young musicians and composers in the contemporary musical praxis.
Ripieno Ensemble PH is a contemporary chamber ensemble dedicated to the performance of new music in the Philippines. This is the second time the group has participated in The Modern Academy in Hongkong. The first time was in June 2015 where the ensemble made its debut.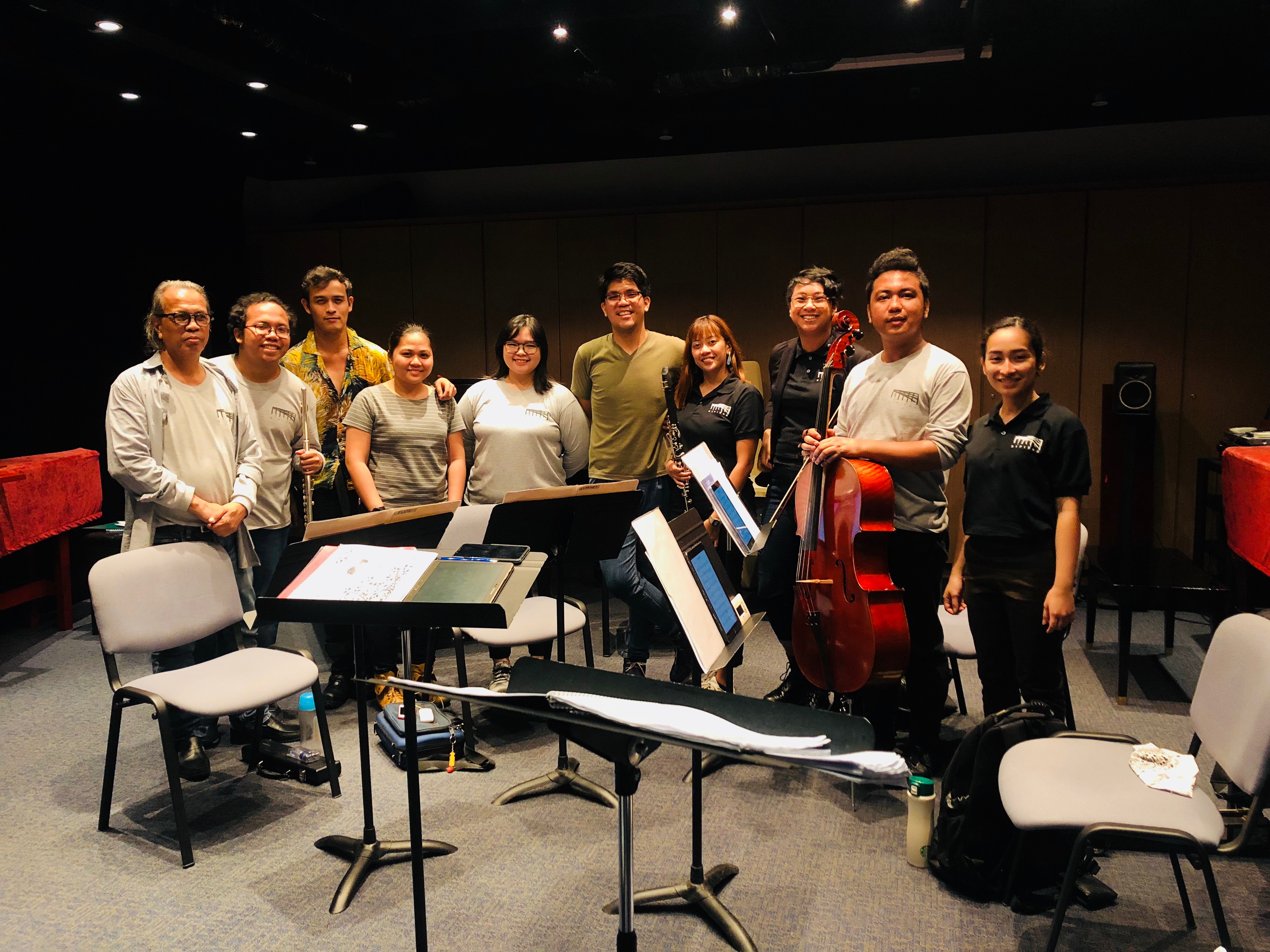 Lakantula (Spoken Word Artist), John Castro (flute), Joseph Emmanuel Hernandez (cello), Dr. Jonas Baes (founder of Ripieno Ensemble), Alexander John Villanueva (composer and artistic director), Patricia Poblador (violin), Sara Matsuura (piano), Danelle Dionisio (clarinet), Pauline Arejola (Soprano), Bianca Bonifacio, (spoken word artist)
As the group continue to expand their repertoire from Western, Southeast Asian to Philippine music contemporary music, exploring new ideas and extending the possibilities of reinventing the concept of "what was" into "what is" or "what could be" prove to be limitless. In this recent project with The Modern Academy, the goal was to present kundiman in a modernist world, set into contemporary arrangements for the ensemble by the group's resident composer, arranger and conductor Alexander John Villanueva. Kundiman is a Philippine traditional song form popularized by Filipino composer Nicanor Abelardo. Although his compositions, especially in the 1920s and 1930s, are evident of the western classical music influence, Philippine poetry and lyricism shaped the identity of kundiman highly rooted in culture. Through time, this song form and vocal music has undergone changes in terms of perspective and how the society receives. It was regarded as a rural folk song before it was institutionalized in the conservatory. It was considered a love song, protest song, and eventually a nationalist song. However timely these songs may seem, the vivid poetry written in the 1920s and 1930s mirrors the modernist society today. (See related links below for the project's official website: )
Kundiman is very relevant to the issues that our society face today. Here are some lines from the songs to reflect on:
"Dito sa mundo'y walang kasing tamis, gaya ng umawit ng sariling himig…"
-from "Ano Kaya ang Kapalaran" by Francisco Santiago
"Ngunit sa isang sandaling ako ay walang malay, ang puso'y 'di nakita, tibok ay naparam, ay!"
-from "Nasaan ang Aking Puso" by Nicanor Abelardo
"Kung nais ninyong ako'y mabuhay, pag-ibig ko'y inyong ibigay!"
-from "Mutya ng Pasig" by Nicanor Abelardo
"Sa piling ni Nanay, langit ang buhay. Puso kong may dusa'y sabik sa ugoy ng duyan…"
-from "Sa Ugoy ng Duyan" by Lucio San Pedro
"munting pisngi ng langit lang ang tanging nasisilip…."
-from "tatlong tagulaylay" by Jonas Baes
" ya'y natutong sumamba't umirog, dugoy nagdanak sa pagsintang lubos. Ngunit ang lahing mapangamkam ay niyurakan ang kanyang dangal at ang pinapangarap ay ang kalayaan."
-from "Ang Aking Bayan" by Nicanor Abelardo
Everyone wore their sablay to celebrate the graduation of its three members as the university graduation was held on the same day. Pauline Arejola (BM Voice, cum laude), Danelle Dionisio (DCPMA Clarinet), and Joseph Emmanuel Hernandez (DCPMA Cello).
The project consisted of three activities: an open rehearsal, a pre-concert talk by Dr. Jonas Baes, founder of the Ripieno Ensemble, and the concert proper. Aside from kundiman, the repertoire also included "Tatlong tagulaylay" (Three laments) by Jonas Baes, and excerpts from the opera "Ang Mahiwagang Hardin" by National Artist for Music Ramon P. Santos. The collaboration with spoken word artists from Alab at Sinag touched on a different light concerning the issues implied in the songs. This other perspective also influenced the expression and interpretation of the ensemble and gave more depth in playing the music.
The Hong Kong New Music Ensemble (HKNME), who annually hosts the Modern Academy Creative Projects, specializes in contemporary music and is known for its innovative programming, concerts, educational outreach events, research projects and interdisciplinary collaborations. Since its foundation in 2008, Hongkong New Music Ensemble has been featured in festivals and projects internationally. From 2013 to 2015, it was the Resident Company at the Hong Kong Academy for Performing Arts. The projects of HKNME are funded annually by the Hong Kong Arts Development Council.
More information about the project:
https://www.hongkongnewmusic.org/macpripieno
Full profile of Hongkong New Music Ensemble:
https://www.hongkongnewmusic.org/
More about Ripieno Ensemble PH and their upcoming events:
https://www.facebook.com/ripienoensembleph/